Bio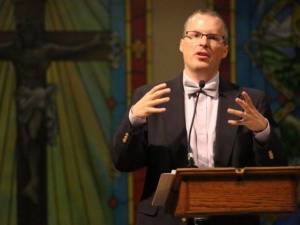 Life. Every human life has an inherent dignity, given to it by God, not government. It's imperative that a society protect its most vulnerable citizens. This means he is anti-abortion and anti-war.
Liberty. He is a fierce defender of liberty. He subscribes to the Non-Aggression Principle: no one, including government, should initiate force against another person or a person's property.
Pursuit of Holiness. The purpose of life is to become a saint. As a convert to Catholicism, he has been studying Catholic teaching for more than 25 years and holds a Master's degree in Theology from Franciscan University of Steubenville.
He is a freelance writer, editor, and the author of several books, including The Old Evangelization: How to Spread the Faith Like Jesus Did (Catholic Answers, 2017) and Holiness for Everyone: The Practical Spirituality of St. Josemaría Escrivá.  He has also written several books, including a High School textbook on world religions, and a book on the digital currency Bitcoin.
He is also the Editor of a Sacramental Preparation textbook on the Sacrament of Confirmation. He contributed articles to numerous websites, including OnePeterFive, Catholic Answers, Crisis Magazine, The Federalist, and CatholicVote.
He holds a Master of Theology degree from Franciscan University.
He can be followed on Twitter @EricRSammons and his website "Swimming Upstream" can be found at ericsammons.com.
Position
Freelance Writer, Editor, and Author
Location