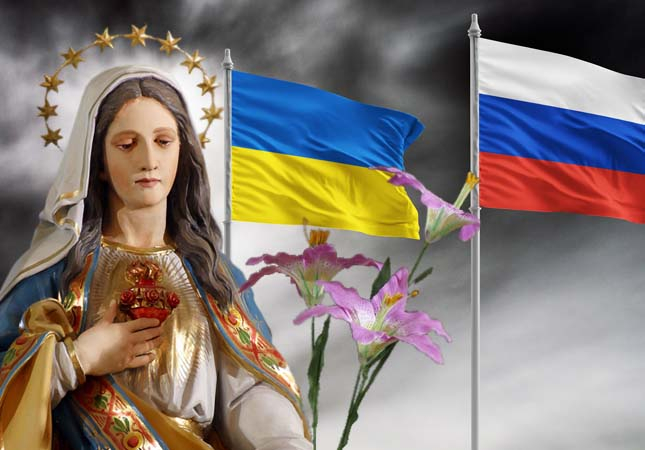 March 20, 2022
Dear Ladies and Friends of TASTE,
This Friday (March 25th), Pope Francis will consecrate Russia and Ukraine to the Immaculate Heart of Mary during a penitential prayer service in St. Peter's Basilica. As many know, Mary warned the children of Fatima of war, famine, and persecutions of the Church and of the Holy Father and requested the consecration of Russia to her Immaculate Heart to prevent this.  It appears no coincidence that March 25 was also the day in 1984 that Pope John Paul II consecrated Russia and the world to the Immaculate Heart of Mary. It is also the Solemnity of the Annunciation of the Lord.  CNA.  NCR   Blue and yellow are the two colors in the Ukrainian flag.  These colors stand for blue skies and fields of wheat. In solidarity with our Ukrainian brothers and sisters, please consider wearing blue and yellow when we meet on Thursday. See next paragraph for adoration opportunities.

From Our Lady's Center regarding the Consecration:  Join us in Our Lady's Center Chapel for 24 hours of Adoration and Reparation surrounding the Consecration of Russia & Ukraine ​to the Immaculate Heart of Mary which is scheduled take place on the Solemnity of the Annunciation, Friday, 3/25/2022 at 12:00 Noon EST (5 pm Vatican time). Adorers are needed!  Call OLC at 410-461-5066 or email the Center at email@ourladyscenter.net to register for one hour or more and to receive instructions.

Last week,

Mike Tenney gave his third talk in our Lenten Series on Catholic Spirituality entitled "Benedictine Spirituality: Lectio Divina & the Monk Life." The Benedictines are a monastic order, taking their name from their founder, St. Benedict of Nursia. In fact, along with his twin sister, St. Scholastica, they are considered the father and mother of Western Monasticism. Mike then set the historical context of the times - the late 5th century, early 6th century. The Western Empire was crumbling, the barbarians were invading, people were fleeing the big cities including Rome, and society was falling apart. The Pope and bishops were given a great deal of power since they were keeping civilization together. Onto this scene came the monasteries - where people could come together to work, to study, to pray. They were beacons of light in a dark world by their acts of charity. Additionally, they safeguarded the Christian heritage by saving and making copies of ancient texts. The barbarians were slowly starting to be converted by these monastic inhabitants, especially the lower classes and women who were drawn to them. The Benedictines' motto was "Ora et labora" - pray and work. They followed a strict schedule - 8 hours sleep, 8 hours of prayer and study, and 8 hours of work for the upkeep of the monastery, and for charity. The monastery became a model for the university. The Rules of St. Benedict became a constitution for how a monastery should function.  And how to pray as a Benedictine? Mike introduced us to lectio divina, the way of reading sacred scriptures with four (or five) key steps - Lectio (Reading), Meditatio (Meditation), Oratio (Prayer/Speaking), Contemplatio (Contemplation), and optionally Actio (Action). He went into some detail on each and then led us through the process using Psalm 139. He left us with some homework to try out lectio divina on our own.
SPIRITUAL BOUQUET

—

Thank you for the prayers you offered for Colleen during her pregnancy and again as Caleb has had health challenges in his first weeks of life.  Most recently a stomach virus has made a slow and painful trip through their family.  Colleen has reported to Karen that she can "feel our prayers."  We would like to offer Colleen a Bouquet of our prayers- past and those you promise to make for her family.  There will be a card at TASTE over the next 2 weeks that  you can sign.  If you attend remotely, please send your "flower" of prayers to Joy so it can be included.

PRAYER REQUESTS

—  Several of our T

ASTE sisters need our prayers. Please also pray for:

All our TASTE sisters, especially Kate Christianson, Katylee McInerney, and Geraldine Broglio.
Our spiritual director, Fr. Larry Swink as well as all of the priests in the Baltimore and Washington Archdioceses, especially those of whom you may have spiritually adopted.
Our speakers and their families 

— 

especially: 1) Susan Conroy for her health (see UPDATE from Susan) and 2) Colleen Duggan and family - baby Caleb (see

UPDATE

from Colleen) and  3) Sister Mary Michael Fox: a special intention concerning her family.
Supreme Court Justices

—

 Please let us all pray today for wisdom, strength, and courage for our Supreme Court Justices and for Life to be victorious.
New prayer requests can be sent to Joy Parker at

joyparker73@gmail.com.
CONTINUED REMINDERS
FR. SWINK'S WEBSITE

 

—

 His new website called Quis ut Deus includes information on future retreats, talks, videos, pilgrimages, and recollections.  We have permanently included this LINK on

Fr. Swink's

speaker page for future reference.

USCCB & SUPREME COURT

 — For a reminder of prayer intentions for the USCCB and Supreme Court, please view this

LINK

 and see 

UPDATE

.

LOGISTICS

— For a reminder of any information associated with zoom small group, parking, masks, public health, babysitting, or registration, please view this

LINK

.

DONATIONS

 

— 

For a reminder of how to donate to TASTE or the Sisters of the Servants of the Lord, please view this

LINK

.
Joy, Michele, Carolyn, and Karen